Everyone Has a Story:Spillit
I first heard about a storytelling event called Spillit about a month ago.  They were looking for people willing to stand in front of a microphone and tell stories forged from real life experiences.  As a writer (and former actor), the notion resonated with me.  The art of the monologue has always seemed the most pure form of theatre.  I think of the first time I saw Spalding Gray performing "Swimming to Cambodia," and how his pure honesty captured me.  Gray needed nothing more than a desk, a spotlight, and his real life experiences to keep an audience on the edge of their seats.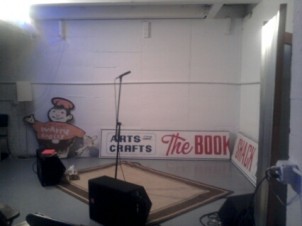 All of that said, I was nervous about what I was about to see.  Spillit stories are, according to the rules, unscripted.  In fact, that extemporaneous quality is what kept me from joining in for the first edition.  Even when I performed my own monologues I worked from a script.  I was worried about non-actors getting stage fright.  I was concerned that someone may get lost in their story.  I was nervous for each and every storyteller that stepped up to that microphone as I hoped that they would remember details and not get lost in this new moment (which would surely produce a new story for each of them).
I needn't worry.  The storytellers did a wonderful job.  While, I admit, I checked my watch a couple of times, I was quickly brought back to the unveiled honesty happening in front of me.
Six storytellers performed six different stories all with different perspectives.  Brooke Graber made me cry, visibly cry, as she told of losing her baby sister.  On lighter notes, I laughed aloud at a quirky coming out story, a tale of postal mishap, and Melissa Anderson Sweazy's yarn of hypnotism mixed with slumber parties.   Elaine Blanchard, a member of Voices of the South Theatre Troupe, performed the most actor-like monologue of the evening as she told a tale of waiting tables and trailer park management while Josh Campbell came darn close to stand up comedy as he wondered aloud why he went to church each Sunday morning.
Of course, unscripted does not necessarily mean unrehearsed, and it was obvious that the performers had spent time getting to know their stories.  They have told them over and over to friends, family and co-workers, and I'm sure they spent plenty of hours rehearsing sans book.
I left feeling that I had just watched a series of one act plays of the highest order.  Each storyteller had a voice.  Each storyteller had humor, honesty and conviction.  I urge everyone to go to an event like this.  This is theatre at its most basic and most honest. The next Spillit event will be announced shortly.  You can find more information on these unique and wonderful events on their Facebook page.
Longtime skateboarder and proud Memphian, David Thornton is a former executive chef turned marketer, artist, and writer.  Through his work he has had the good fortune of working with some of the Mid-South's most popular local products, and his recipes often appear in Memphis Health and Fitness Magazine.  A former monologist and actor, he holds a degree in Speech and Theatre from Arkansas Tech University, and dreams of the day when he is once again able to spend time on the stage.