8 Adventures in Baby Raising
I got a lucky head start in the parenting thing, having begun working with The Urban Child Institute and writing for Memphis Parent Magazine a few years before the birth of our child. I picked up a lot of great information, working closely with experts in early-child brain science, institutional childcare and good-old-fashioned effective parenting.

And then our little stinker (the name given to her by the operator at the poison control center, after the baby ate an aspirin and we freaked out) was born, and my wife and I realized this parenting thing is an adventure that writes itself as it happens. It's an epic story filled with twists and turns, broken allegiances, desperate bargains and elated joy. We've learned a lot in this first 16 months of her life; a lot about the human species, a lot about ourselves, a lot about what happens in those low-lit predawn hours the childless use for sleeping.
We all write our own parenting story, but there are common threads running through them all. Here are a few of the nuggets of truth we've discovered so far, on our parenting adventure.
1. Kids are a mess– They have fruit in their hair, wax in their ears, gum on their shoes. Their hands are always mysteriously sticky. Their fingernails need to be trimmed seven times a day and they fight it every time. They leak fluids and substances constantly, from everywhere. They touch everything. They eat bugs and hair and sand.
2. Kids are hilarious– They laugh and laugh at everything. They think sneezes are the funniest things in the world. Being lifted into the air by loving arms makes them grin. Cats are funny, dogs are funny, birds are funny, trains are funny. The sound of their laughter warms the heart.
3. Kids are miserable– They cry and cry at everything. They think sneezes are worst things in the world. Being lifted into the air by loving arms makes them scream. Cats are terrible, dogs are terrible, birds are terrible, trains are terrible. The sound of their screams chills the soul.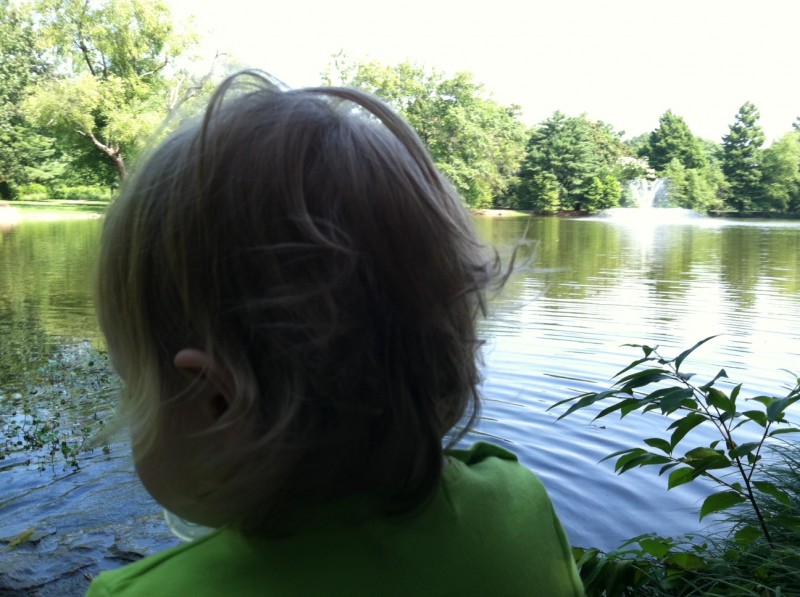 4. Kids are shaped by their experiences– The Urban Child Institute's 2013 Data Book: The State of Children in Memphis & Shelby County says: "Although the first stages of brain development are strongly affected by genetic factors, genes do not design the brain completely. Instead, when and where genes are used is fine-tuned according to the input they receive from the environment." This means it's on parents and caregivers to provide safe and varied experiences for our growing kids, showing them the full spectrum of life on Planet Earth.
5. Kids come first– This idea is vaguely understood by non-parents, but the depth of this truth is hard to understand until you've had your own children. Your mornings are theirs, your nights are theirs, your workdays and paychecks are theirs, your vacations and weekends are theirs. Even your band practice is theirs, as all the songs you write tend to explore themes of
childhood and family when you've got a goofy little big-head as your muse.
6. Kids need the proverbial village– The home is ground zero for child raising, but children thrive when nurtured in school and in groups. The Data Book says: "…tracking incoming kindergartners in Memphis City Schools (MCS) has demonstrated that children whose parents reported they attended MCS Pre-K, Head Start, or other structured child care consistently scored higher on measures of kindergarten readiness than children who spent the year prior to kindergarten at home…"
7. Kids are amazed– These enriching experiences we've been talking about are easy to come by, because kids are brand new to it all. We take ours to farmers markets, international grocers, museums, the zoo. We walk to the pond, near our house, to check out the turtles and the ducks. Right now, I'm writing this in a condo on the beach, where just yesterday my daughter giggled in the surf, poking a plastic shovel into the sand. My wife and I are living life as we always did, but showing the new kid what it's all about has changed the game. The little one is constantly amazed by the novelty of it all, and that's amazing.
8. Kids are the future of Memphis– There are almost 250,000 children in Memphis and Shelby County, representing thousands of families doing what's right for their offspring. But the way I see it, these kids and their families represent a chance for our city to come together to shape our collective future. I think of these kids, mine included, as our greatest asset as a community, a vital natural resource. The better Memphis and Shelby County can do for them now, the better they can do for Memphis and Shelby County when it's their turn to run the show.
MemphisConnect is a strong supporter of The Urban Child Institute (TUCI), our local think tank on early childhood development and the importance of optimal brain development on the futures of our children.  To personalize TUCI's research, Matt Timberlake, writer, musician, and communications consultant, will journal for us as he and his wife navigate the early years of their new child's life.