I Choose Memphis- Katy Spurlock
Memphis is a city full of proud residents who are passionate about calling this community home! New Memphis Institute partners with The Commercial Appeal to feature members of our community who are proud to say "I Choose Memphis."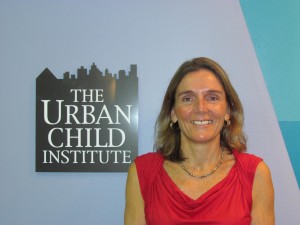 Name: Katy Spurlock
Job title: Director of Education, The Urban Child Institute
Length of time in Memphis: about 30 years
I graduated from Rhodes College in 1986 and then served in the Peace Corps in Papua New Guinea for two years. I have lived and worked in Memphis in the nonprofit sector since 1989 — including ALSAC/St. Jude, Prudential Center for Health Care Research, Plough Foundation and The Urban Child Institute. And I have returned to the classroom twice — receiving master's degrees in social work and business. I have two children — Bryan and Alex — ages 18 and 15. Currently, I am president of the board of the First Unitarian Church and volunteer at White Station High School, where my children are in school. And I am training for the St. Jude half marathon.
What is your favorite local festival?
That would have to be the Greek Festival at the Greek Orthodox Church on Highland. I go every year — even if it rains and even if I just get food at the drive-thru.
 What is your favorite local restaurant?
I can't just mention one. I love Cafe Eclectic, Trolley Stop, Acre and The Elegant Farmer
Greatest opportunity for Memphis?
Memphis' greatest asset is its children — beginning at birth. Compared to our sister cities across the country, we have more children and many children under age 5. Memphis has a tremendous opportunity to invest in these children — privately and publicly — from parents to politicians. The return on investment for investing early in the lives of children is an opportunity we can no longer afford to squander.
 Favorite building in Memphis?
No one is ever going to ask me to serve on an aesthetics committee because I'm not a visual person but I know what feels inviting to me. That said, I like the homes in Midtown with hardwood floors, detailed wood work, and high ceilings. It's kind of fun living around the corner from the Galloway Mansion.
Fondest memory of Memphis?
Sitting in a bay window in a Haliburton Tower classroom at Rhodes College on a crisp fall day — listening to Professor Jack Farris expound on the virtues of the Romantic poets.