Brister Street Productions: Scene Makers
"Around April 2011, my friend Craig got a tip about the shell looking for acts to book for shows,"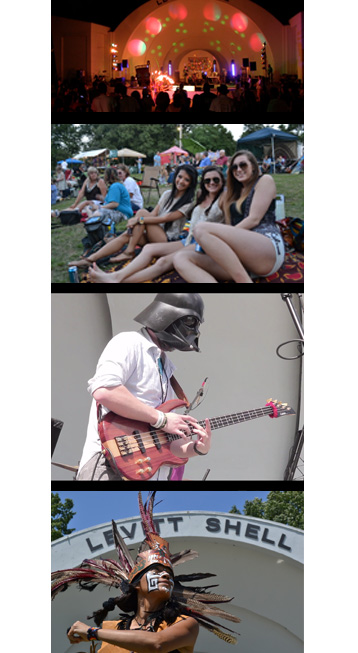 remembers Jack Simon, co-founder and executive creative director of Memphis grassroots organization Brister Street Productions.
"At first, I thought: 'They're the Levitt Shell, they don't need shows,' but then I figured, what's the worst that could happen," says Simon. "I assembled a big pitch, we met with the booking guy, and we got a date booked."
"Sitting at home, thinking about the reality of it, I realized we had 25 days to put something huge together."
That something huge became the first Bristerfest, held at the Shell in the spring of 2011. With a name borrowed from the street on which he lived, Simon and Brister Street Productions co-founders John-Michael Tubbs and Andy Parrish had a hit with their first, one-day festival. 160 people came out in the first year. Estimates from the second, two-day festival, in 2012, put attendance at around 600.
"As a student at University of Memphis, I hosted shows at my house all the time," said Simon. "I didn't see it as doing shows, it was just people I knew having a place to play and party. But now suddenly, we had three weeks of solid work to execute the first Bristerfest, with many bands and sponsors, vendors, details. We did it and it showed us what we were capable of."
Simon estimates that the company has held more than twenty shows in its two years of operations, eclectic, multi-genre events like their venue-roving Takeover series and the upcoming Punk Rock Fest, which punches and kicks to life March 8 and 9 at the Memphis Rehearsal Complex, 296 Monroe.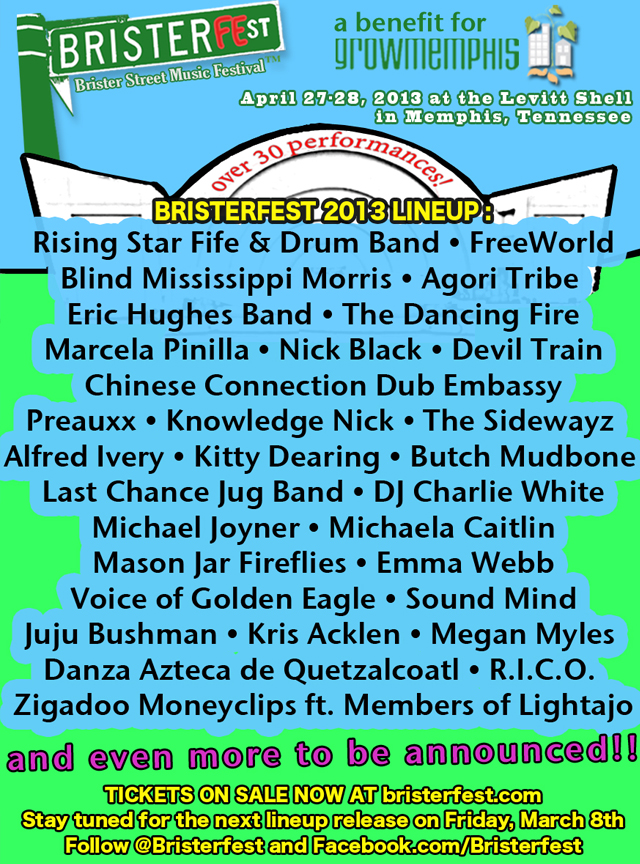 Brister Street Productions isn't all meaningless fun. Many of the shows and events they do bring disparate groups and organizations together, plugging music fans and non-profit supporters into the same network. In its first year, Bristerfest was a fundraiser for WEVL. Since 2012, the festival has benefited GrowMemphis.
"After the 2011 festival, we decided that the festival could benefit the environment," says Simon. "We linked up with GrowMemphis and found a way to get them involved."
Matt Timberlake, a member of GrowMemphis' executive board, says partnerships like these are important to a city. "Different pools of people, with different but complimentary sets of interests, benefit from coming together in multi-media, multi-cultural settings like music festivals. I feel like people who love growing tomatoes and people who love reggae music cover a lot of overlapping territory. Mixing it up just strengthens the web of cultural cohesion in a community."
2013 Bristerfest will be held April 27 and 28 at the Levitt Shell in Overton Park.
"This year is all about the visitor experience," says Simon. "How do we make it easy for them to navigate and explore? How do we engage them? They come to an event like this for an experience. How do we define that experience?"
"We take pride in being innovative. In doing things that don't happen regularly in Memphis."
Brister Street Productions is a growing company with wide ambitions. In addition to promoting and executing live music experiences, they also offer marketing and branding services to companies and music acts and others. In the future, Simon sees the company offering diverse creative services like graphic design, video/film media services and sound recording.
"We're building a gigantic network of everybody involved with everything," says Simon. "We'll be a hub, for just about anything creative.