On the edge of Memphis, in a sun-lit house on a modest sprawl of land, art covers every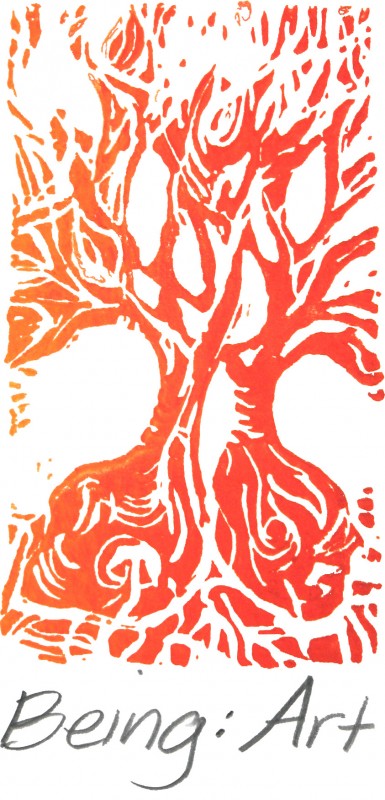 surface. Sketches, photographs, ceramics, hand-made musical instruments, scribbled poems and songs jockey for space in the home of Anne J. Froning and Sean Murphy, a pair of Memphis artists who are doing more than making art. They are embodying art as a lifestyle. They are Being:Art LLC.
"Being:Art really is one big synergistic thing," Froning said as we stood in the couple's workshop, surrounded by tools and chunks of wood; works in progress were everywhere. She was explaining the origin of the couple's small arts business.
"We met at a dance and music improvisation twelve years ago. We were founding members of this improv gathering, held at TheatreWorks. That's how we met, and we really had this way of working."
"There are definitely a lot of similarities in how we work, but really it's the collective," said Murphy. "We both bring a lot of different elements."
Each brings so many different artistic elements, in fact, that it is almost hard to keep up with the many things their small business does. They make fine art for walls and display cases. They build massive musical instruments for public installations in parks and urban centers- they call them custom instruments for site-specific environments. They teach dance, yoga and meditation, music improvisation and xylophone building workshops. They make records and perform live music.
They make art, constantly. While their passions and talents take the two artists in many directions, three projects stand out, illustrating the role they play in shaping the city they've chosen as the home for Being:Art.
Go Outside and Play
Partnering with the Arbor Day Foundation and Dimensions Educational Research Foundation's Nature Explore initiative, Being:Art has built hundreds of large-scale instruments for installation all over the U.S., and a few in other countries. You've seen and perhaps even interacted with their work if you've visited My Big Backyard at Memphis Botanic Garden. Being:Art made the marimbas tucked near the gigantic terra cotta earthworms, the most accessible local example of work they do on a global scale.
"Mary Helen Butler, who is now Director of Administration at the Botanic Garden, used to baby sit for my children, when they were little," Froning said. "She was one of the first people from this area to go out to Nature Explore to do the training that they offer. We told her: 'you need to come out and do this because what you're trying to do with the Botanic Garden is totally cohesive with Nature Explore.'"
Nature Explore was launched in 2007 as a way to guide educators, city planners and park designers toward smart design that takes kids away from their HD screens and presents them with foundational experiences in nature. They offer design and education workshops, and operate a catalog of products for use in parks, schools and other institutions.
Froning and Murphy were hired as consultants, part of a larger team that would design a prototype classroom, where instructors would be trained in the ways of Nature Explore.
"It started with, they asked us what musical instrument would be good and I had the bright idea of a marimba and they said 'Okay, great. Can you build one?,'" said Murphy. "And we're artists and we always want work, so of course we didn't say no. So we did a demo and they liked the demo model and they said 'How about something really big and great?'"
Once the green light was granted, they began work on a four segment, thirty-five foot long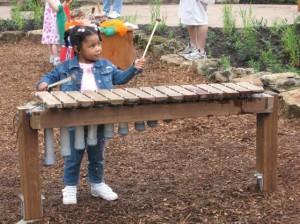 marimba, the first of many instruments they would make. Today, their massive outdoor instruments are a key part of the Nature Explore catalog, and have made their way to parks across the nation, and as far away as Japan. The couple also works as educators, traveling across the US to facilitate training workshops for Nature Explorer educators.
"It's been really fun," said Froning. "We train other people to do some of what we do, a train the trainers program to help broaden the knowledge. It's all, like, very improvisational, experimental. Sort of like going inside and finding the kid in yourself again, through a series of experiences that were more gestalt than analytical."
Listen to the Wind
Another good local example of Being:Art's work can be found among the many recent upgrades and additions unfolding at Overton Square, overseen by the developers at Loeb Properties.
"We were asked by (Loeb Properties): "Go check out this tower over in Overton Square and take a look at it and tell us what your idea would be for what could be done," Murphy told MemphisConnect. "And we both went over there, and we both looked at each other and said: 'Wind chimes.'"
It was the Loebs who connected Murphy and Froning to the project, enlisting their creativity to install an interactive work of public art that made sense within the space and added to the visitor experience. Robert Loeb had been a customer before, having had a set of his mother's wind chimes repaired by Being:Art.
"He brought them over and asked if we could fix them because they really mean a lot to him," said Froning. "And I said 'Yup, I think Sean can fix them.'"
"It was one of the things that led to the Overton Square project," Murphy said. "It was like: 'Oh, they can do that.'"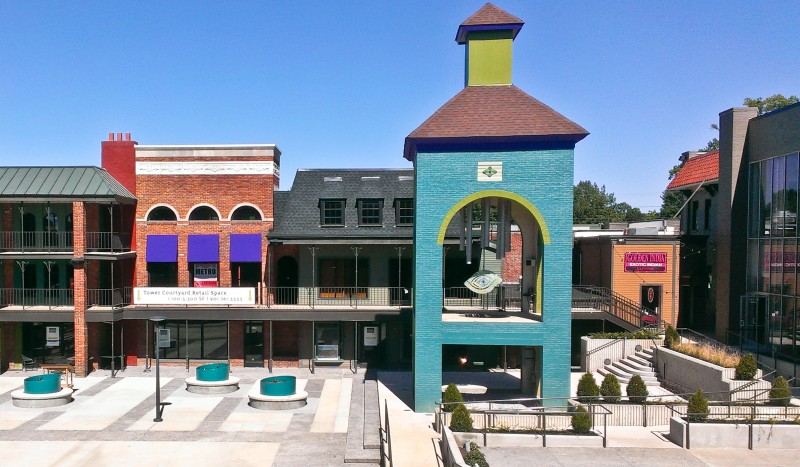 Their design features a set of massive tubes and resonators articulated by the wind, and, lacking a breeze, by fans that are controlled both by a timer and by switches attached to the structure. Once fully installed, the public will be encouraged to flip these switches, blasting the apparatus with air and setting off the deeply resonating tones. It's part public art and part interactive instrument that we all get to play. The whole thing is splashed with light from a digitized LED array, which listens to and changes with the sounds coming from the chimes.
"What we're doing next is the cupola, the top," said Murphy. "We're going to light that using a similar lighting installation that will actually be tied in to the lights that are on the chime. If you go and park at the parking garage and you've called in an order at Golden India, and you're running across the courtyard to go pick up your food, either coming or going, you're going to hear the chimes and see the lights reacting."
The chimes are up now, lit by LED and making music in the wind. The installation of the lighting array trained on the cupola happens this week, and in the next few months the project moves into its final stage, the installation of the fans and the switches that control them.
Architectural Ghost Stories
The Sears Crosstown building sits like an old gray ghost on the edge of Midtown, but most of us know it's been rumbling with activity over the last year and a half. The building and the neighborhood surrounding it are undergoing an inspired transformation, and artists, entrepreneurs and developers are noticing.
New construction and renovations are a common sight along the Crosstown stretch of Cleveland Avenue and the surrounding blocks, where storefronts and art space are blinking to life. Being:Art is playing a part in this Renaissance, too; a musical one.
"For a little over a year, Mary Jane Adams, my recording engineer, and I went into the Sears Crosstown building, mostly alone, into these wide open spaces and I just improvised," Murphy said, explaining the process behind his new album Sketches of Crosstown, released on vinyl through Murphy's own 1 Breath Music label, which falls under the Being:Art umbrella.
"Sketches of Crosstown is improvisation, all the music is improvised," he said. "We may have come up with some basic structures, but improvised on that. We got a tiny bit of funding from the community to go in and actually get the recording part done. I presented the idea at MemFeast 2, I was one of the finalists."
From close to twenty hours of recordings, Murphy and his team of musicians and engineers culled the project down to less than an hour, all that could fit on an LP. The album is loaded with sonic textures, some familiar and some more exotic. Murphy built many of the instruments he plays, from South African kalimbas, bansuri flutes from India, didgeridoos, and his own take on a Malian hunter's harp, known as the doson n'goni. He calls his the Mississippi Bass Harp.
"There's seven seconds of echo in that building," Murphy said.  "I was immediately completely taken by the fact that basically any sound you made, the building said it back to you, through echo. That's where the idea came from."
Murphy put a copy of the record on his turn table and shared a bit with MemphisConnect, a track featuring himself and Memphis based saxophone player Jim Spake, called "Crosstown Soul." Mournful, creepy tones escaped from the speakers, like ghosts– thick, vibrating sounds that could have been amorous whales.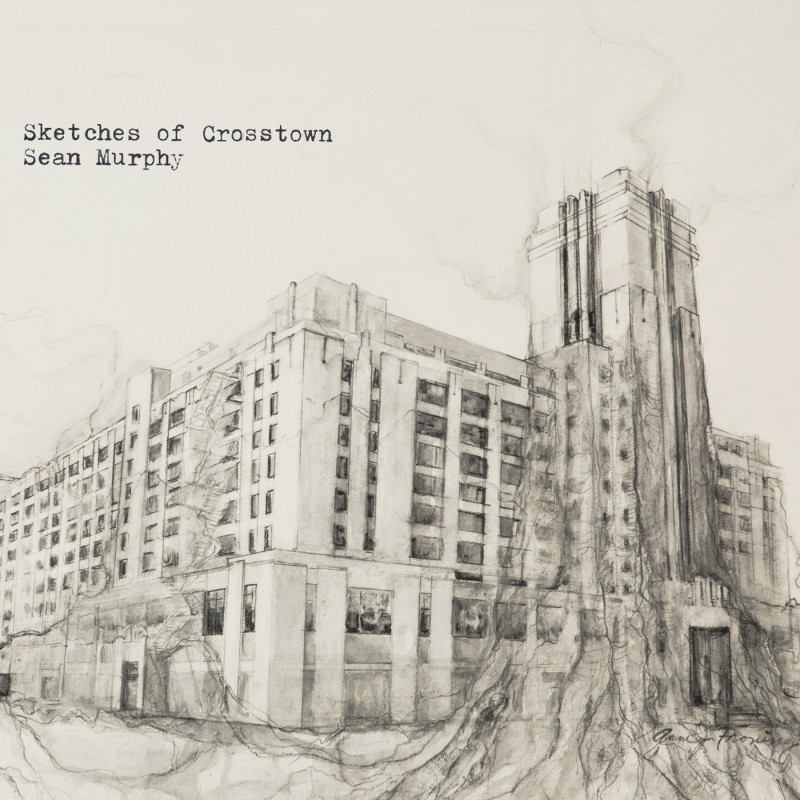 "We were standing somewhere in the vicinity of two football fields away from each other when we recorded this song. There's one stereo mic and a digital recorder capturing it. This tune was probably the most worked out, in that I said 'I'm going to play this chord progression.' But everything else was like 'Okay, let's go. Let's just see what happens.'"
Froning, who created the art for the album's unique gate fold packaging said it's a piece of music for many types of listener.
"It's a project for a mix of artists and intellectuals across different age groups," she said.  "And curious people. And people who feel connected to, or want to be connected to stories about Memphis from the past."
"My whole idea (on the design) is that the building is coming back to life," she said. "It's got these deep roots. Here in Memphis, there are so many people that talk about growing up with this building in their lives. I used trees to show that; the idea of the whole organic aspect of a building."
This past October 20, an event was held to celebrate the release of the album, s concert in the building, timed to end as the sun sets. The songs were performed progressively, moving through the floors and, where possible, performed where the songs were created. The final tune was played on the roof, as the sun set.
All musicians from the album, like the saxophonist Spake and percussionist Jason Northcutt were joined by the University of Memphis Slide Society, their trombone choir. The price of admission got you in to see the one of a kind show and take home a copy of the record. The special night took place just prior to renovations commencing, offering one final chance to see the building in its dormant state.
"Everyone involved in the project, we all agree that this is something really, truly meaningful artistic project, not just for us, but also for Memphis," said Murphy. "Because, for one thing, Memphis is saving this building. It's saving this building after a long history. In many cities all over the country, these great, cool buildings just get torn down and a mini mall gets put in its footprint. But we said no, we're going to save this building and we're going to do something amazing with it."
"Memphis is going to do something amazing with the building and revitalize a neighborhood," said Froning. "And that's already happening."