Midtown Gallery and Shop Celebrates a Decade of Art

In a brightly eclectic shop on Overton Park Avenue in Midtown, Diane Laurenzi presides over a world of her own creation. For ten years, she's operated Diane's Art Home & Gifts, crafting the shop to fit her own artistic vision. This past weekend, Laurenzi capped her first decade of operations with a series of events celebrating the shop, her customers old and new, and the artists and work that continually capture her imagination.
"To make it ten years really is quite a feat," says Laurenzi, who opened the shop after 25 years

as a respiratory therapist for Le Bonheur Children's Hospital. An art student during college in Mississippi, the transition from helping others to jumping feet-first into her life-long passion for art simply made sense.
"I liked the healing and the people, but shift work at the hospital no longer met the needs of the family," said Laurenzi. "It became more important for me to do things that appealed to me in other ways."
After considering space in various shopping centers around town, an opportunity presented itself in the neighborhood Diane and her family call home, the Evergreen Historic District. The old building on Overton Park Avenue had been a Masonic temple in a former life, and though in need of work it was instantly recognized for its quirky charms and unique character. Leases were signed, and Laurenzi got to work realizing her vision.
"I like the shop to be like my home," the life-long collector of art says. "I use my artist's eye to balance space and mass. People shouldn't feel claustrophobic in a shop. Blood pressure should drop."
Her shop does have that effect, too. Hung with colors and light, Diane's is welcoming but also aesthetically compelling. Laurenzi specializes in hand-made pieces, and the sparkling jewelry, fanciful clocks, vibrant candles and bold pieces of art cast a spell.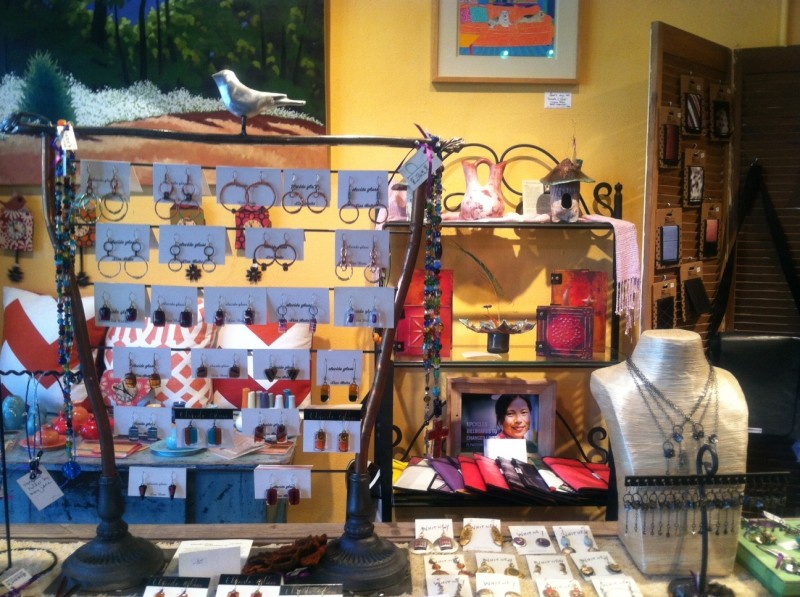 When talk turned to the artists, Laurenzi led MemphisConnect upstairs, to the gallery space she keeps above the shop. The Overton Park Gallery hosts only a few shows yearly, but, like the shop, is a showcase for hand-made, regional art. Laurenzi and her husband have since bought the building, which also houses a yoga studio and masseuse.
Laurenzi has friendly relationships with most of the artists whose work her shop sells, many of whom make their homes in the Memphis area. An exhibit of their work is on display in the Overton Park Gallery and will run through the end of the year. Also, in honor of the anniversary, Diane's is running specials on certain items through the month of November.